By Nick Pilgrim
Theatrical is a brand-new independent musical theatre group based in Melbourne's south-east. To date, they have already made their mark from two impressive outings with Little Women (November 2021) and If / Then (March 2022).
Inheriting the reins from the potential likes of Magnormos, StageArt, and The Production Company, both pieces were in fact Victorian premieres. That is also the case with Freaky Friday, which is Theatrical's latest offering.
Organisations such as Magnormos, StageArt, and TPC were vital to the local live theatre scene, in that they brought Broadway, Off-Broadway, the West End and London's Fringe to Melbourne with shows that may not have otherwise been enjoyed here.
For many years these teams would offer a mixed bill consisting of popular revivals, rarely seen classics, and something brand new. (It should be noted that Theatrical has already announced a full three-show season for 2023 with Green Day's American Idiot / March 9 – 26, The Wizard of Oz / June 29 – July 9, and Dogfight / November 9 – 26.)
While Magnormos ran their presentations book-in-hand at Southbank's Recital Centre, and TPC stylised the experience as lavish costumed concerts at Arts Centre – Melbourne, StageArt reconfigured their projects to Chapel off Chapel's more intimate and immersive venue space. The common thread between the trio being, how each entity gave veteran talent the chance to try something different, while promoting rising stars as well.
In tandem with this mindset, Theatrical (as stated on its website) also runs workshops throughout the year to help people build their skills and confidence in many disciplines of theatre production. They also provide opportunities to disadvantaged creatives with this interest, who may not normally get that chance.
For viewers of a certain age, Freaky Friday will bring back a flood of nostalgic memories, and create new fans in the process, too.
Based on the classic pre-teen novel by Mary Rogers, her fascinating tale explored fractured families in an innovative yet playful way. Taking the age-old theme of walking a mile in someone else's shoes, what would happen if a mother and daughter at odds with each other traded places, minds and bodies for one critical day? Except to the outside world, they were the only two who knew!
Seeing its box office potential as a motion picture Disney quickly bought the rights, filming it multiple times with Jodie Foster and Barbara Harris (in 1976), Gaby Hoffmann and Shelly Long (in 1995), and Lindsay Lohan and Jamie Lee Curtis (in 2003).
With hits like Aladdin, Beauty & The Beast, Frozen, The Lion King, Mary Poppins, and Newsies, it seemed inevitable that a popular vehicle like Freaky Friday would follow suit to the stage. Thanks to an entertaining book by Bridget Carpenter, the live musical is completely new and not a play-by-play of the abovementioned films. (This recalibrated approach was also taken by recent outings like Bring It On – The Musical.)
Carpenter's fresh and engaging telling is matched by Tom Kitt (music) and Brian Yorkey (lyrics). Together, the pair were responsible for both If/Then and Next to Normal.
As a trio, they work as one outstanding and cohesive unit.  Conversational dialogue drives the characters and their relationships with each other. More than expanding on key moments for dramatic effect, the fun and funky set list gives viewers tremendous insight into the protagonists' dreams, regrets, and motivations as well. Very much a character piece, Freaky Friday provides ample opportunities for its performers to sink their teeth into such crazy material. Audiences will be invested in a narrative which takes its linear and overlapping series of events and subplots down to the absolute wire.
For its swift two-hour running time (plus a twenty-minute interval), the collective's enthusiasm is obvious. Helmed by Stephanie Powell (as Katherine) and Lyla Digrazia (as her daughter, Ellie), not since Wicked has there been a musical featuring two such powerful female leads.
Quickly establishing their roles, the early body switch ramps emotions up to eleven. Inhabiting her mother's mind, Digrazia is prim and rigid. Powell, now her teenage opposite, is equal parts surly girly and awkward. Both are a delight to watch as they transverse their newfound status. Relishing the source material's quality, the pair really go for it. Their chemistry onstage is gold, and each performer is the other's vocal match to boot.
Apart from the intense mother/daughter dynamic, this is very much an experience which ticks all of the necessary rom-com/teen flick boxes. There is the annoying younger brother, Fletcher (played by the hilarious Nathaniel Calleja), honey-voiced partner, Mike (Michael Gray) teen heartthrob, Adam, (Thomas Martin) and the requisite mean girl, Savannah (Kate Thurkle).
Strong support from the ensemble cast (where many of the actors play multiple roles) includes:
Tach Sutton as Torrey, Katherine's overworked and highly-stressed assistant
Jessi Neilsen Carreño as Ms Meyers, Ellie's sadistic gym teacher
Jack Lear as Pastor Bruno, the hapless celebrant marrying Katherine and Mike
Charlotte Willis (Gretchen) and Maggie Lynch (Hannah) as Ellie's supportive besties
Isobel Smart as Mrs Time, who almost helps Ellie in her biggest moment of crisis, but withdraws on the deal at the last second
The team is rounded out by Jerry Ge (as Louis & Parker), Peter Overton (as Wells), Sarah Genis (as Laurel), Lynette Williams (as Grandma & Gretchen's Mom) and Warren Overton (as Grandpa, Parker's Dad, and Mr Blumer)
Written in a pop, rock, blues, and contemporary Broadway style some of Freaky Friday's many musical highlights included:
'Just One Day'
'The Hourglass'
'I Got This'
Shoppin' With My Mom / Drivin' With My Mom
'Parents Lie'
'Today and Ev'ry Day'
A tuneful running joke within the story, 'Adam…Adam', works that character's heartthrob status to the rafters.  Later in Act Two, Martin and Calleja share a particularly special moment in the delightfully nutty song, 'Women and Sandwiches', which has to be seen to be believed.
Strong creative and technical design support the overall experience.
Director, Bronte Regos Thiele has a particular vision in mind and runs with it. Filmic in approach, Freaky Friday feels very much like a movie come to life.
Musical Director, Peter Pham Nguyen, manages the dozen-strong band. Thanks to excellent sound balance, his crisp and clean sound supports (but never dominates) the singing and other musical moments. Tucked away behind the set, Pham Nguyen conducts with style and flair.
Bridie Clark's intelligent choreography makes the most of the small floor space. Her use of splitting the action in two with scenes running simultaneous or in tandem, is particularly effective. Furthermore, the smart decision to allow cast members to move around set elements and props prior to each scene, always keeps the action on point.
State-of-the art sound (by Matthew Goldsmith and Gerard Hook at Stagepass) is especially crucial with any new work where viewers are unfamiliar with the dialogue and set list.
Lighting design by Jason Bovaird (of Moving Light Productions) showcases Freaky Friday's overall aesthetic. Two special moments included the magical body switch scenes between Ellie and Katherine, and the hunt for Fletcher.  The latter was a particularly brilliant touch, where carrying searchlights, the cast bring viewers into the show by moving throughout the audience.
Pastel coloured sets (by Yvonne Jin, Allegra Strauss and Felicity Bain) reinforce the show's playful vibe. At times, I really felt like I was stepping into the pages of an illustrated children's book.
Jin and Strauss assisted with set construction by Ash Lee, Ariane Kretschmer, Yijun Lu, Billie Smith and Ellen Regos.
Bain's set artistry was assisted by Lauren Castle, Prim Sandindum, Zoe Meeham, and Jenna Saengrin.
Katherine Faichney's disciplined stage management provided the glue to keep this journey together.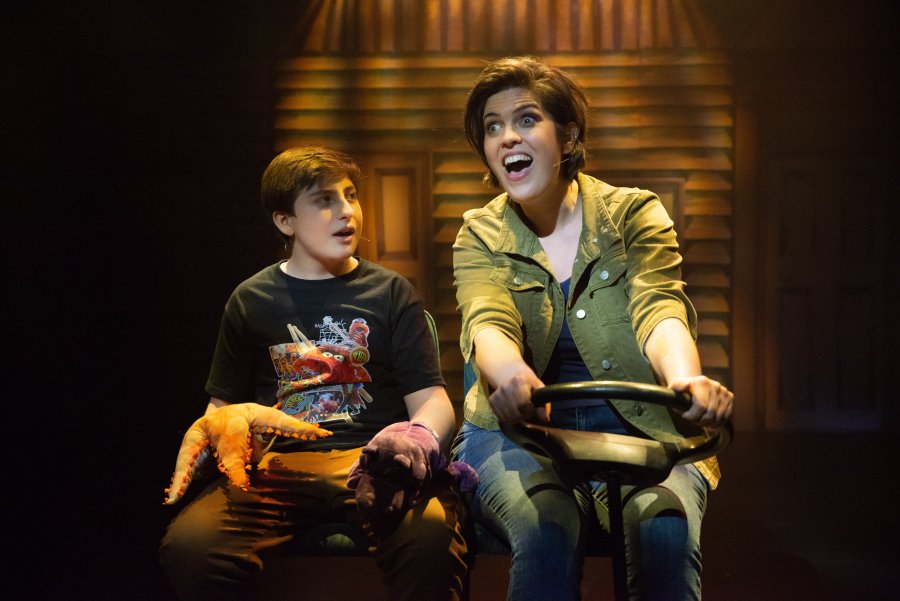 Overall, tremendous attention to detail makes for two hours of fabulous entertainment.
Hot on the heels of Little Women and If/Then, my expectations for Theatrical's latest venture were very high indeed. In the lead-up to September's school holidays but suitable for audiences of all ages, Freaky Friday is an experience with wide-reaching appeal. Catch it while you can.
Images: Evangeline Kepler Studios